A week long trip to Brazil for media and business events organised by and for our clients, the pictures posted on Facebook really show that the working atmosphere is full of smiles, happy, that business partnerships change over the years into friendships. Wine helps all of this.
The trip went through Lisbon and the TAP. Bordeaux-Lisbon then direct to Belo-Horizonte with the return from Sao-Paulo-Lisbon with more than a day's delay. The passage with the TAP was probably not the best choice although the staff were very kind.
I know Belo Horizonte well but I went to Rio de Janeiro for the first time, staying at the Sol Ipanema hotel just off of the beach with a superbe view. Unfortunately I didn't have the chance to put on my swimming costume and try out the sand and the water.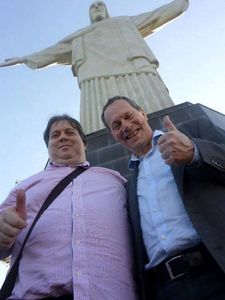 We were here to work, two dinners, one invited to a restaurant at the golf course with an excellent decor, tropcial temperatures, to meet with a future investor in our own Bordeaux wineyards and the evening at a restaurant, which was really nice for tasting our Bordeaux wines already distributed in Rio as is the wine of our friends Fleur Cardinale which goes through another distributor.
Then on to Sao Paulo for three days with an event organised at the Brazilian Sommeliers Association, the ABS, with an exceptional tasting of our Valandraud 2012 which is still in the barrel and our range of wines available in Brazil.
Good mediawork with the excellent Adega wine bar boasting a Enomatic machine dedicated to our products, a meeting with Ed Motta, the jazz-soul star and of course lots of Brazilians that we have met before here and in Saint Emilion.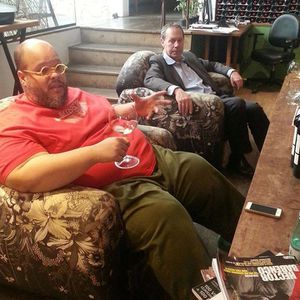 The World Cup, for your information, isn't everybody's cup of tea here...