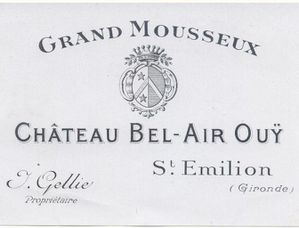 This is a label that we recently uncovered in our archives which must be from before 1940 when the rules and regulations weren't as controlling as they are now. There must have been some white grapes used to make a sort of 'Champagne' for the Caves of Saint Emilion or Montagne sold under the label 'Grand Mousseux' of Saint Emilion.
10 years ago, we bought a small plot of vines next to ours which contained a few white grape vines that must have been well over 80 years old.
We tried to make wine out of the few grapes that grew but unfortunately without much success!..